Chris & Mick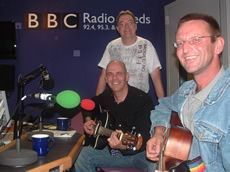 CHRIS & MICK are Chris Berry & Mick Clark based in a village just east of Leeds. Originally performing as the act CMC in 2005 when they were a trio CHRIS & MICK provide a unique vocal sound. They both play electro acoustic guitars and use no backing tracks. What you hear is what they both perform with nothing added!
CHRIS & MICK have performed at festivals, weddings and major functions, including celebrity parties. They have recorded two CDs – the latest is CHRIS & MICK'S ACOUSTIC JUKEBOX and their third CD will be available by Christmas 2013.
CHRIS & MICK are an ideal act for any occasion particularly when the requirement is for something a little more relaxed and less volume than you expect from a full-on band such as SMILER or THE CHRIS BERRY BAND.
THE CHRIS & MICK repertoire is wide ranging and includes the following:
California Dreaming
Brown Eyed Girl
The Gambler
Get It On
I Love To Boogie
20th Century Boy
I Wanna Be Like You
Babylon
Mrs Robinson
Oliver's Army
Hey There Delilah
Whistle For The Choir
American Pie
Sweet Caroline
Light My Fire
Losing My Religion
You Got It
That's Entertainment
Cum On Feel The Noize
Hi Heel Sneakers
The Letter
Tequila Sunrise
500 Miles
Follow Me
I'll Sail This Ship Alone